Keekin In by Rowena M. Love
11th December 2012
This month we have a poem from Rowena M. Love. It is a quiet, beautiful, short poem packed with punch. It was published in Poetry Scotland and placed in the Scottish Open Poetry Competition the same year (2002). Rowena has also sent us a recording so you can enjoy this poem over Christmas both in the text and in sound. In the recording she has made a few observations about the inspiration for the poem.
Keekin In
by Rowena M. Love
Kye coorie in thir sta,
life smokin fae thir mous;
a leam o sunlicht thirls the mirk
lik guid news
an splatters braiths wi gowd.
Anent the wa, a cuddy,
wi its timmer fraucht:
siller board set wi cairngorms
that myrrh the air.
Nae bairnie nor hirds are here,
nor kings wi camels;
only angels the sleepin doos,
yet the morn's rich
wi frankinscence
o promise.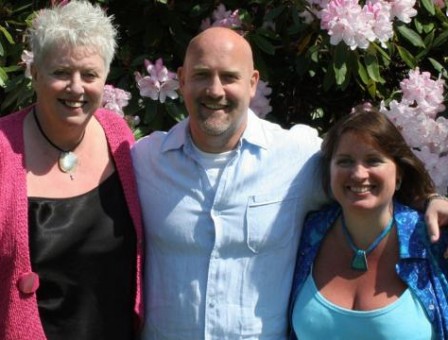 Ayrshire Makars at Culzean: Sheila Templeton, Michael Malone and Rowena M Love (right)
You will not go far in Scots poetry circles without coming across the Ayrshire Makars, a group of four poets who banded together some ten years back to provide exciting and original poetry readings of their work at libraries, venues, and festivals throughout Ayrshire and Scotland. All of them write in both Scots and English.
Their readings became fewer when one member, Jim Hughes died and another – Rowena herself – moved to Dublin, and currently, Hertfordshire. However their annual hallmark poetry reading and picnic at Culzean Castle in Ayrshire still carries on and is well attended by people from the area and beyond. The rhododendron tree in the picture is normally in bloom at the time.
Rowena writes, "My Scots is mainly Ayrshire, courtesy of my mother, with the odd hint of Doric as I had an Aberdonian grandfather. There is some East coast influence, too, as I was brought up in Dunbar."
Joint winner of this year's McCash prize, with a poem called Pentit Leddy, to be published in an anthology by Glasgow University and the Herald, Rowena has several poetry books to her name as well as the Makar anthologies. Her own books include The Chameleon of Happiness (Scots and English poems) and Comin Oot in the Wash (a chapbook made up entirely of Scots poems). Both are available from Rowena's website www.rowenamlove.co.uk