Broadsides and Chapbooks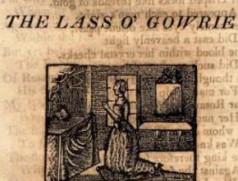 Broadsides and chapbooks have a long history over several centuries. Printed crudely and cheaply, broadsides were typically single sheets while chapbooks were folded into small pamphlets. They were sold by street criers, travelling 'chapmen', and by 'balladeers' at markets and fairs.
Being essentially precursors to the modern tabloid press, broadsides and chapbooks were the main reading material of a majority of the population, carrying news and popular culture of the day.

They first came to prominence in 16th-century England, when they were known as 'blackletter' broadsides, owing to the gothic typeface used. With the growth in literacy and the industrial revolution, the demand for street literature increased, and song lyrics became readily available to the masses.
The song lyrics they contained became known as broadside ballads. These were printed by many provincial printers across Scotland, and in particular by shops called "The Poet's Box" in various towns in Scotland (as well as Belfast). While these shops shared the same name, the relationship (if any) between them is unclear. It is thought however that the Poets' Boxes would regularly share and exchange song sheets. Arguably the most famous of them was the Poet's Box in Dundee, which existed well into the 20th century.
Popular songs would be printed upon request, and since the songs were thought to be generally known in the locality, tunes were rarely supplied. The cost of setting and printing musical notation was also prohibitive.
Broadsides regularly turn up amongst traditional singers recorded in the field, such as Oor Maggie's Got a Bairn - here is the broadside at the NLS website, and a sung version from 1954 at Kist o Riches.
The printing of broadsides was of course widespread, and examples of the songs are to be found across the British Isles. Songs printed in 19th-century Ireland have turned up in the mouths of Scottish Traveller singers, such as this example of Bella Higgins at Kist o Riches, from a broadside printed in Cork.
Broadside collections online
The National Library of Scotland has digitised a portion of its extensive collection of broadsides, contextualising them via their 'Word on the Street' project. NLS also hosts a collection of over 2,300 English broadside ballads which contain a number of Scottish items.
Another major resource is the Murray Collection at the Glasgow Broadside Ballads page, with useful references to broadside songs appearing in the oral tradition.
The Bodleian Library at Oxford has one of the most extensive digitised collections of broadsides in the world: http://www.bodley.ox.ac.uk/ballads/project.htm
The English Broadside Ballad Archive at the University of California, Santa Barbara, has made several collections available online, including the Euing collection held in the University of Glasgow.
Further reading:
- Leslie Shepard, The Broadside Ballad: A Study in Origins and Meaning, London, 1962
- Edward J. Cowan and Mike Paterson, Folk in Print: Scotland's Chapbook Heritage, 1750-1850, John Donald/Birlinn, 2007