Warm up for Scotland Sings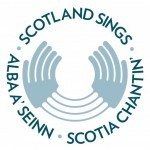 Some excellent song events are coming up at the Scottish Storytelling Centre in Edinburgh, tying in with the Scotland Sings initiative, bringing together singers, choir leaders, and community song groups to get Scotland singing around St Andrew's Day, from 30th November - 2nd December.
Warm Up for Scotland Sings
Friday 2nd and Saturday 3rd November 2012
Scottish Storytelling Centre, 43-45 High Street, Edinburgh, EH1 1SR
Finding Songs (Friday 2nd November 4.00 - 6.30pm). A feast of resources and information from the Kist o Riches project and Scotland's Songs, and plenty songs to sing too. Find out how to access great songs, easy songs, inspiring songs with Ewan McVicar and Chris Wright. Free but ticketed - Bookings: 0131 556 9579. Download the programme.
Warm Up Day for Scotland Sings: Inspiring Community Singing (Saturday 3rd November 10.30am - 4.30pm) with Wendy Carle Taylor. For those who love singing, for those who are thinking of leading community singing groups and for those wish to develop further, a vital day of developing skills in leading song. 36/30 Network members - Bookings: 0131 556 9579. Download the programme.
These workshops will be invaluable for teachers, volunteers, anyone interested in building their expertise in develop their skills in leading and enabling singing in all settings.
What is Scotland Sings?
The Scotland Sings initiative invites everyone to get involved in a nationwide singfest on the weekend 30th November - 2nd December with the motto If you can talk you can sing! In preparation for this weekend, we invite singers, song group leaders, movers, shakers and everyone willing to help make this happen, to take part in a workshop that will inspire, animate and activate. In association with Hands Up for Trad and Education Scotland's Scotland's Songs.