Bothy Ballads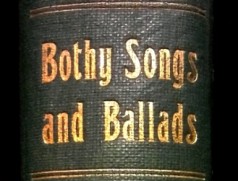 'Bothy ballads' is the name given to the songs of the farmworkers of northeast Scotland, although the accuracy of the term is of some debate. The name supposedly reflects the dwelling place of the authors and performers of songs about farm life in the nineteenth century. 'Bothies' were outbuildings used to house unmarried farmworkers, although this was only true in certain areas of the country. Bothies were more common in Angus than Aberdeenshire, but it is the latter that has become best known as the heartland of bothy songs.
Traditional bothy ballads were mostly composed between 1830-1890, and are often characterised as being songs decrying the conditions on a certain farm or in some cases certain farmers, seemingly gaining notoriety for places such as Drumdelgie, the Barnyards o Delgaty or Rhynie. However, bothy ballad expert Ian Olson points out that the songs were jokes rather than satires. He notes that Delgaty, for example, was a prestigious farm, "famous for having the very best of equipment, horses and horsemen. Singing that there was 'naethin there but skin and bone' would have been hilarious".



Here Jock Duncan sings "Drumdelgie" on "Folk Songs of North East Scotland", CDTRAX5003, 1995, by kind permission of Greentrax Recordings.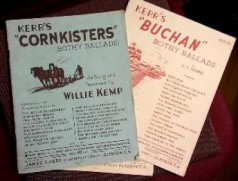 In the first half of the 20th century, the bothy ballad took on a more comical 'stage' form through the works of George Bruce Thomson, G.S. Morris and Willie Kemp. These more recent compositions - by and large very humorous - are sometimes called cornkisters to distinguish them from older 'traditional' bothy songs which tend to be more sober accounts of work and conditions on particular farms.

The Pirnie-Taed Loon sung by Scott Gardiner
00:00
Share
Here Scott Gardiner of Forfar sings George Bruce Thomson's "Pirnie-taed Loon", sometimes called "Pirn-taed Jockie".
Some of the leading bothy ballad singers in recent times include Joe Aitken (Kirriemuir), the late Gordon Easton (Blackhills of Tyrie, by Fraserburgh), John Dickson (Tarves), Shona Donaldson (Huntly), Jock Duncan (New Deer / Pitlochry), Scott Gardiner (Forfar), Bill Gray (Peterhead), Duncan McNab (Auchtermuchty), Geordie Murison (Fetteresso by Stonehaven), Hector Riddell (Leochel Cushnie / Finzean), Allan Taylor (Tornaveen / Alford), Russell Taylor (Ellon) and John Valentine (Cove).

Read more about Bothy Ballads:
Education Scotland Scotland's Songs website
The North-East Folklore Archive
The Elphinstone Institute at the University of Aberdeen
Ian Olson is a renowned expert on the history and context of bothy ballads, looking at various themes in his excellent article "Bothy Ballads and Song" in the volume Scottish Life and Society: Oral Literature and Performance Culture (2007, John Donald/Birlinn).