A Handsel For Every Bairn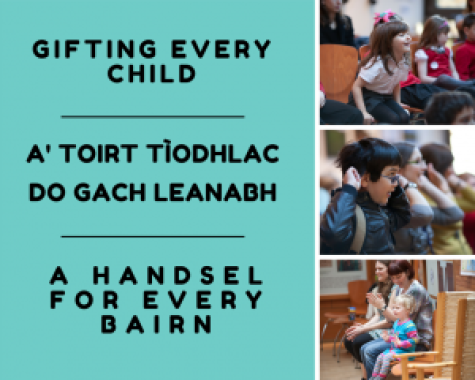 Whit sangs, tales an dauncin culd we gie ilka bairn in Scotlan fir a richt guid handsel? Tae stert oot wi as a smidgin, a wee seed whilk micht graw intae muckle trees o pleisur an wunner. Here's a wee mindin tae begin wi fir aabody, reidy tae yaise an free tae aa.
Dè na h-òrain, sgeulachdan, dannsaichean, agus cleachdaidhean tradaiseanta nan ràithean, air am bu chòir do gach leanabh no pàiste ann an Alba a bhith eòlach? Dè tha buntainn leotha as bith cò às a tha iad, no dè an cultar no an cànan a th' aca?
What songs, stories, dance steps and seasonal customs should every child in Scotland know? What belongs to them regardless of origin, culture or language? Presented in a simple online format incorporating text, audio, video and helpful guidelines, Gifting Every Child provides a manageable and accessible introduction to the traditional arts that can easily be put to use in the classroom, club, community hall or family sitting room.
In providing educators, parents, teachers and anyone else who wishes to engage in creative work with children with an accessible selection of some of the best examples of the traditional arts, we in turn gift the children with an introduction to Scotland's creative culture and indigenous languages, which could serve them a lifetime of benefit.
Incorporating a multimedia format of text, audio files (both streamable and downloadable) and video, the resource is easily downloadable and ideally designed to suit various abilities and levels of interest – whether you want to meticulously engage with each piece of the resource, or pick and choose from what is available. Guest editors Bea Ferguson (story), Christina Stewart (song) and Mats Melin (dance) have years of experience in their respective fields, and especially in engaging with children and education. The inclusion of Gaelic and Scots throughout is vitally important, with the material provided also being broadly targeted at the 6 to 9 age group.
In the second stage of this project, TRACS plans to develop the Gifting Every Child model across communities through a series of workshops, and by promoting local practitioners able to support creative work with children. The public are warmly invited to add their own local or family favourites to the collection, thus making this a collaborative project in which everyone living in Scotland can tap into our rich creative culture.
View or download the resources for free at: Gifting Every Child