Wee Gallus Bloke
A city song about confident girls coming out from their factory. They meet a lad and tell him what they think of him.
He must feel this is definitely unfair.
Hamish Henderson collected this song from trade union leader Josh Shaw at a party in Peel Street, Glasgow. Josh Shaw had learned it from a Gallowgate friend, who had afterwards emigrated to Rhodesia.
This song is full of things that somebody living in a Scottish city 80 years ago would have understood fine, but that now need to be explained.
The sweetie works is a sweet factory.
Petticoats and shawls are clothing, gutty boots are rubber boots like wellington boots - gutta-percha is a kind of rubber - and strides are trousers.
Five and a tanner is five shillings and sixpence, or 27½ pence: not much to pay for a pair of wellington boots these days.
Gallus molls is hard to translate from Glesga into English. It means girls who are proud of themselves and their style.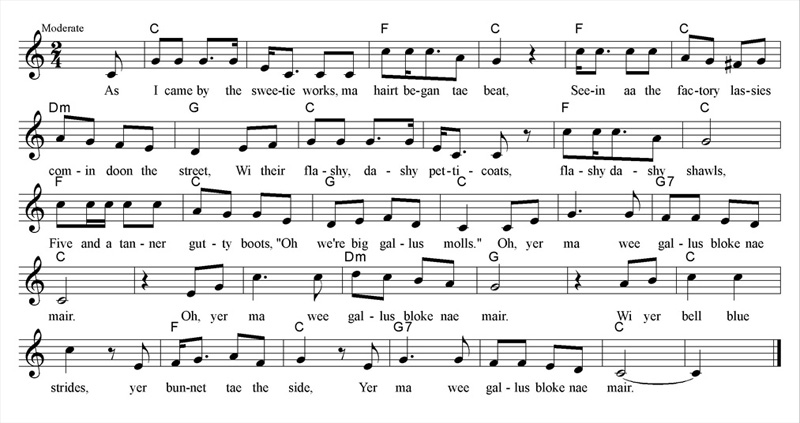 This version is sung by Ewan McVicar and comes from Traditional Scottish Songs and Music, Gallus Recordings.
There is also an instrumental version of Wee Gallus Bloke to sing along with.