Fitba Crazy
This song reminds us that football can be dangerous as well as fun. It is sung by adults as well as children.
Your 'gub' is your mouth. 'Skivvies' are young girls who work in a house and do the worst cleaning tasks.
Some people say that it began as an Irish song, which was brought over to Scotland and then the words were changed. You could try translating this song from Scots into English.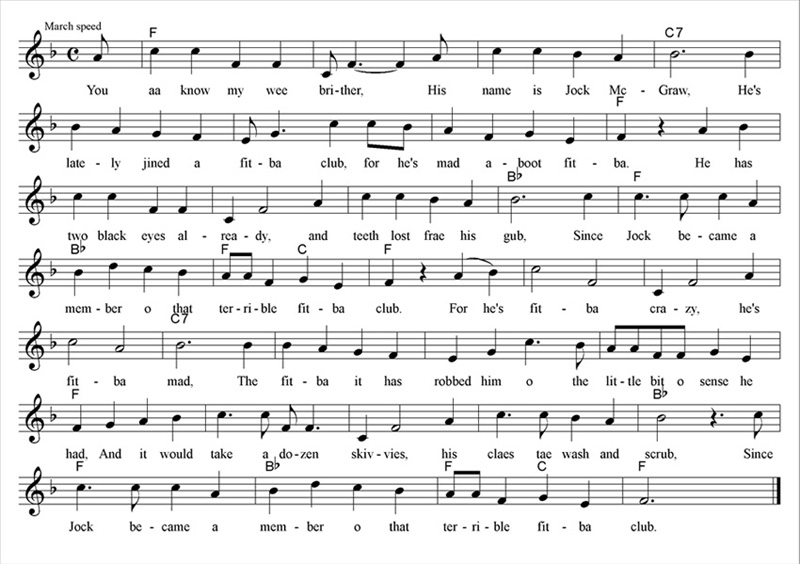 You aa know ma wee brither, his name is Jock McGraw,
He's lately jined a fitba club, for he's mad aboot fitba.
He has two black eyes already, and teeth lost frae his gub,
Since Jock became a member o that terrible fitba club.
For he's fitba crazy, he's fitba mad,
The fitba it has robbed him o the little bit o sense he had,
It would take a dozen skivvies, his claes tae wash and scrub,
Since Jock became a member o that terrible fitba club.
The first game he took part in, I was there masel and saw,
There were jaickets for the goalposts and a tin can for the ba.
The Prince of Wales was there himsel, in his dinner suit,
Jock he passed the ball across, and shouted, "CHARLIE, SHOOT!"
His wife she says she'll leave him, if Jock he doesn't keep
Away from fitba kickin, at night time in his sleep.
He calls her Charlie Tully, and other names so droll,
Last night he kicked her out of bed and swore it was a goal.
In the middle of the field at Hampden, the captain said,'McGraw,
'Will you kindly take this penalty or we'll never win at aa.'
Jock took three steps backwards, and shot off from the mark.
The ball went sailin over the bar and landed in New York.
Fitba Crazy, performed by Ewan McVicar From Traditional Scottish Songs and Music, Gallus recordings and a sing along instrumental version.