Scots Language Audit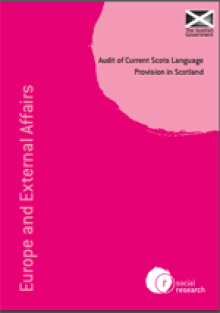 The Audit of Current Scots Language Provision in Scotland, set up by the then Culture Minister Linda Fabiani after years of campaigning by Scots language activists, is the most wide ranging and broadest investigation into Scots ever undertaken by government.
The Scots audit report was published on January 27, 2009. The purpose of the research was to conduct a baseline audit of current Scots language provision in Scotland to
a) identify where provision currently exists; and
b) determine what opportunity may exist to expand provision within the context of the Council of Europe European Charter for Regional or Minority Languages, either as part of, or in addition to, the manifesto commitments the Scottish Government has given to the Scots language.
The Scots Language Centre gave an enthusiastic welcome to the audit report. Michael Hance, the Director of the Centre said, "We're very pleased with the content of the report. There should be no doubt in anyone's mind about the excellent work the Scots organisations are doing to encourage the language and support the community of speakers." He said the Centre was, "looking forward" to the next stage of the process which will include a consultative conference to be held in Stirling in February.
Colin Milton, the convener of the Centre's Council, urged the government to give some indication of its plans for those Scots organisations which have had their funding withdrawn by the Scottish Arts Council. Dr Milton said, "Now that the audit is complete we need some decisions about the future funding of the Centre and the Scottish Language Dictionaries. Like the Centre, the Dictionaries have emerged from this process in a favourable light. We need to hear from the government soon about how it intends to deal with the present funding crisis."
The 2009 Audit of Current Scots Language Provision in Scotland may be found at http://www.gov.scot/Publications/2009/01/23133726/0