Nip Nebs and the Last Berry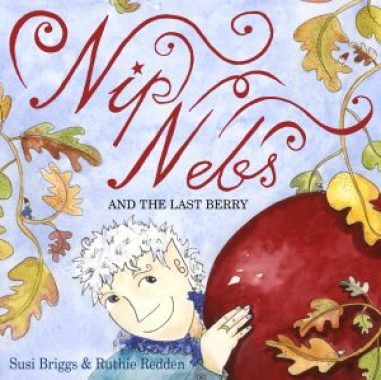 'It wis a cauld frosty mornin in auld Jeannie's gairden an aw wis peacefu until there was an awfy stooshie at the tap o the hawtree...'
Author Susi Briggs has written a sequel to the original childen's story, 'Nip Nebs' - which was nominated for Scots Bairns' Book o the Year in the Scots Language Awards 2019 - called 'Nip Nebs and the Last Berry'. The character, who is a bit like Jack Frost, is woken by the sound of birds arguing over the last holly berry on the tree and tries to persuade them to share. The book is beautifully illustrated by Ruthie Redden and is available to buy from Curly Tale books.
Susi, who writes poetry and prose in Scots, has also written 'Yum' and 'Wheesht', free downloadable stories from the 'Scots in Schools' site, commissioned by Matthew Fitt. You can listen to Susi reading the stories here.
The publication of 'Nip Nebs and the Last Berry' was supported by the Scots Language Publication Grant in 2019. You can see the full list of projects supported by the grant here.