Songs of Robert Tannahill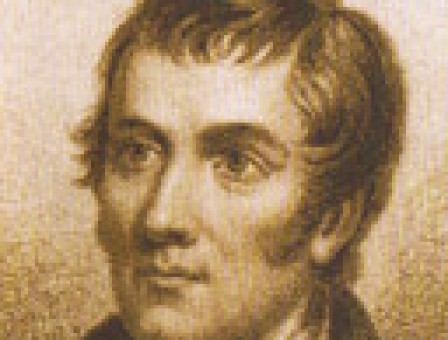 Paisley weaver Robert Tannahill (1774-1810) was an accomplished songwriter and poet who penned some of our best-known songs.
His most famous compositions include the Braes o Balquhidder (later remade by the McPeakes of Belfast into the song Wild Mountain Thyme, or Will You Go Lassie, Go?), O Are Ye Sleeping Maggie?, Gloomy Winter's Noo Awa and Jessie, the Flow'r o Dunblane.
Dr Fred Freeman writes, "Tannahill, like Burns, was obsessed with rhythm in Scottish traditional music...strathspeys and reels; jigs, slip jigs, hornpipes...Burns...was a fiddler, and Tannahill, a flautist. Both...employed rhythmical methods of composition...Tannahill, the weaver, plying the shuttle and formulating his words with the beat of the Scottish dances deeply etched in his mind."
Dr Freeman is currently working on a CD series of the Complete Songs of Robert Tannahill, of which two volumes have already appeared. Here's an extract of Wendy Weatherby singing Hey Donald, How Donald:
Emily Smith sings Och Hey! Johnnie Lad:

Both tracks are from The Complete Songs of Robert Tannahill, Vol. 1, with kind permission from Brechin All Records.
Read the Poems and Songs of Robert Tannahill at the Internet Archive.