Europe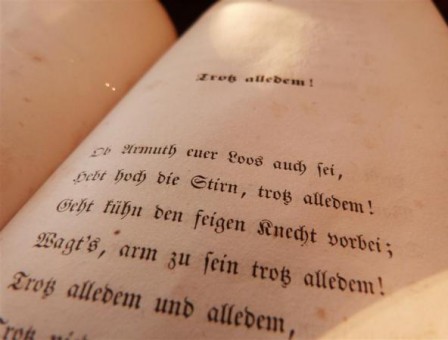 As part of the wave of Romanticism in the 18th and 19th centuries, encompassing James MacPherson's Ossian and the works of Sir Walter Scott, certain Scots songs became famous across Europe, particularly in Germany, where the songs of Burns, for example, were translated and remade.
Ferdinand Freiligrath (1810-1876), the German poet and translator, made his own versions of Burns' Is There for Honest Poverty, called Trotz Alledem (literally 'for aa that'). Originally a straight translation of Burns, a later version was rewritten to suit the politics of the 1848 Revolution.
The song has continued in German tradition through the singing of Hannes Wader, who constantly updates it to reflect new political happenings.
Freiligrath also translated The Lea-Rig, My Heart's in the Highlands and John Anderson, My Jo, amongst others, in his 1841 collection Gedichte (poems). Read it online at the Internet Archive.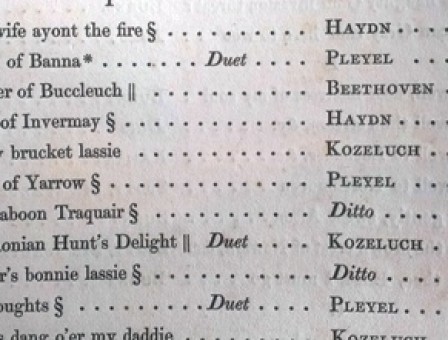 In the late 18th century, Edinburgh publisher George Thomson commissioned numerous well-known European composers to produce arrangements of Scots songs for his A Select Collection of Original Scottish Airs, including Beethoven, Haydn, Ignaz Pleyel, Leopold Kozeluch and Carl Maria von Weber.
Some of the best known Scots ballads also exist in other traditions, particularly Scandinavia, such as the Twa Sisters, "De Två Systrarne" in Swedish. The Scottish band Malinky and Swedish band Ranarim performed a dual Scots/Swedish version using the Swedish melody at the Celtic Connections festival in 2007:

Further reading:
- Roger Fiske, Scotland in Music: A European Enthusiasm, Cambridge University Press, 1984.
- James Porter, "Scottish Song Traditions Abroad" in Scottish Life and Society: Oral Literature and Performance Culture, John Donald/Birlinn, 2007.