Yuri Gagarin
This song is in praise of the Russian cosmonaut Yuri Gagarin, who, on 12 April 1961, became the first man to go into space and orbit the Earth.
The song was written in Glesga language by Glasgow actor and writer Roddy McMillan, to the tune of 'Johnny's So Long at the Fair'. Roddy's words refer to Gagarin going up at the time of the Glasgow Fair, but that holiday is in July.
When Gagarin visited the City of London, he was welcomed with a present representing the City gentleman - a bowler hat and very thin umbrella - which they all wore and carried. But when Gagarin came to Glasgow, ironworkers in one of the foundries created a special medal for him.
Scottish singer, writer and broadcaster Jimmy Macgregor wrote that, 'When Yuri Gagarin made the first space flight, Roddy McMillan's song, sung by Josh McRae, went round a delighted world and became a colossal hit in Russia.'
At that time, Josh McRae went to an International Youth Festival in Moscow. On every lamppost in the city centre was hung a loudspeaker and they were all playing his recording.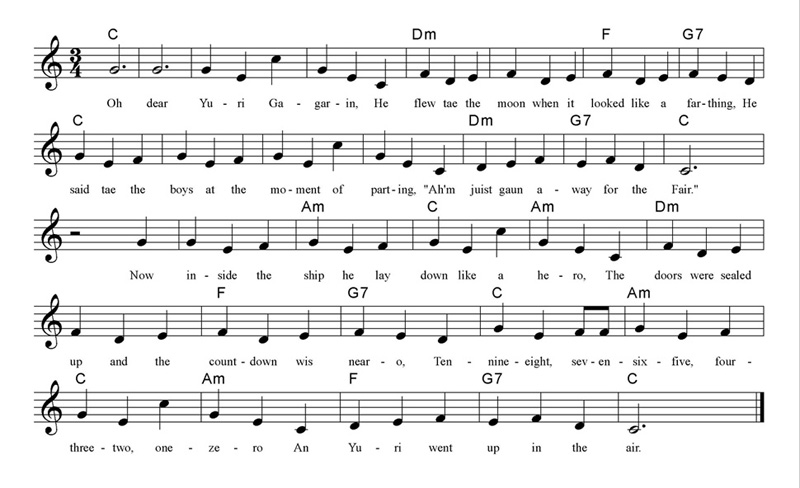 Oh dear, Yuri Gagarin,
He flew tae the moon when it looked like a farthing,
He said tae the boys at the moment of parting
'Ah'm juist gaun away for the Fair'
Now inside the ship he lay down like a hero,
The doors were sealed up and the countdown was near-o
Ten-nine-eight-seven-six-five-four-three-two-one-zero
An Yuri went up in the air
Now when he took off he was shook tae the marra
He circled the poles and he saw the Sahara,
He gave them a wave as he passed over Barra
The day he went up in the air
Now when he went up it was juist aboot dawning,
The time when the rest of the world wis still yawning
Then Yuri returned to the land he wis born in
Withoot even turning a hair
When he came tae London they tried the saft pedal,
A wee bowler hat and a rolled-up umbreddle
But the foundrymen went an they struck him a medal
An gied it tae him at the fair.
Yuri Gagarin performed by Ewan McVicar Recorded for Learning and Teaching Scotland for Scotland's Songs, Gallus Recordings.