Christmas poems from Fiona Davidson and Hugh McMillan
This Christmas we have 2 poets, A Christmas special!
Fiona Davidson wis born an grew up in Pethheid, Midlothian. Fiona luved takkin pairt in the Burns Competition at the schuil. She works in the heritage sector an is nivver comfier thin whin yaisin her ain vyce. She luvs scrievin poems in Scots, maist often aboot history or ridiculous personal incidents!
Hugh McMillan is a poet frae Penpont. His poetry has appeart in mony places, in Scotland an elsewhere. His buik aboot Scots History, Whit If, wis published by Luath in 2021. He edits for Drunk Muse Press, owerseein buiks recently oan the braw Scots poets Willie Neill and Josephine Neill. He edited 'Best Scottish poets' for the Scottish Poetry Library last year an is a judge for the Saltire Poetry Awards. This year Luath will publish 'Diverted to Split' his tenth full collection.
Smaller poetry projects hae been centred oan the heestory a culture o Dumfries and Galloway an hae aften involvt workin wi Hugh Bryden, a collaboration that has won the Callum MacDonald prize twa times.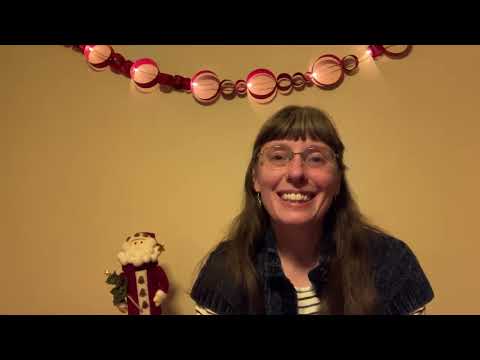 Christmas (caird) Time
or The Maist Wunnerfu Time Ae The Year?!
By Fiona Davidson
It's gitten tae that time ae year
- the time ma husband dreids.
acause he ends up at ees work
wi glitter oan his heid!
It's time tae mak oor Christmas cairds
(the time comes roond sae sin)
sae time tae clear the table fir
production tae begin.
Oor time's spent sortin, cuttin oot -
it's jist like Groondhog day.
Oor time's spent sortin, cuttin oot -
it's jist like Groondhog day...!
As time gaun's oan, thir's nae space left
except fir cups ae tea.
Come denner time, we need tae eat
oor denner oan oor knee.
It's time fir Christmas music, bit
ma husband, tae stey sane,
says, "nae It Must Be Santa or
ye're makin oan yer ain!"
Time's mairchin oan - we're nearly din,
there's cairds piled up a'where.
"Richt, that's time up," ma husband says,
"A'm no daein ony mair".
It's time tae git them in the post,
we've feenished jist in time.
Neist time we micht jist buy them -
it'll save a lot ae time!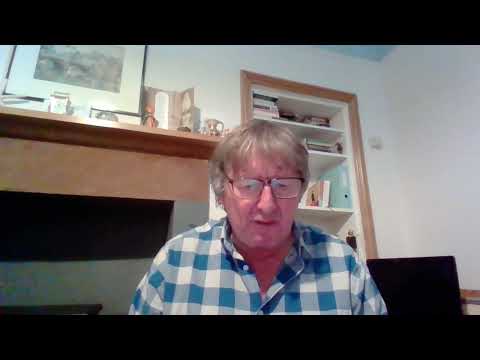 Yows Cam Doon at Yuil
By Hugh McMillan
Oan Yuil E'en, yows cam doon tae Dalgarnock,
for muckle events were tae be talkit thru.
It wis yon rarest o things: a parliament o yows,
an they haed wannert doon the hills frae as far as Auchenlone,
Glenkens in the west, blackface an cheviot maistly,
though ithers an aw. The yows blethert till the gloamin:
there wis much tae concord. They decided no tae bomb Iraq,
notin that the Awassi yow, a breed active frae Israel
tae Syria, ken nae borders.
They greed no tae allou the security services
access tae their personal info, an propaled
a nuclear free zone frae Thornhill tae Clatteringshaws.
Efter that in spite o daursayin their atheism,
the yows sang saftly thegither for oors,
mindin that in the doucest moments
o religious iconography, frae Mesopotamia tae Palestine,
yows hae aye been present,
as the midwives o peace.
Archaeologie by Andy Murray
Andy Murray was a journalist for most of his adult life. He's written poems since he retired in 2021. He won the Fresh Voice award at the Wigtown Book Festival. His poetry has been published widely on magazines. His debut pamphlet, The Magician's House, was published by Drunk Muse in September.
Archaeologie
Whit ye fin diggin gairdens is stunnerin,
Fossils, false teeth,
an banes as al as muck.
Ah've fun a wudden pipe
wi tar in its shaft still
It's as if some smokin time-traveller
set doon yonner on his wye
tae guidness kens whaur,
an left it llyin.
Ah wunner whae it belang't tae,
Some bygone gairdener, wi his sleeves roll't up
wi metal bands,
takin a brek frae plantin
fur a suck and a spit?
Aiblins he collaps't nearby
an they nivver fun it,
an years o weeds bury't it,
or he gaed in the hoose fur tea
an forgot whaur he'd pit it.
This is nae fancy carve't pipe oot I Sherlock Holmes,
Nocht curved or flamboyant.
Jeest a strecht stem an a bowl
Fur the business. Nocht showy.
He must hae held his licht ablow a bushel.
An unassumin man.
Ye'd imagine him yeesin bog standard plug.
Ah mine ma grandfaither cuttin
an flakin his Condor
wi a pocket knife, tampin it
afore settlin doon
efter World o Sport
tae watch Jackie Pallo
fecht wi Mick McManus.
While they wrestled
ah hover't aboot the biscuit jar,
wunnerin when the Camp coffee
wid be comin.
Unner a Berlin sun, ower cauld beer by Wendy Miller
Poet, playwright, teacher and LGBTQ+ campaigner, Wendy Miller is one half of Glasgow spoken-word cabaret, Versaye! which aims to illuminate marginalised voices.
Wendy's poetry has been published by Gutter and New Writing Scotland. She graduated from the University of Edinburgh in 2020 with a Masters In Playwriting (with distinction).
Preoccupied by language, life and love, Wendy writes in both Scots and English. She is currently working on a new collection entitled On It Like a Sonnet. Wendy lives in Govanhill, Glasgow with her partner Gillian and son Edwyn.
Unner a Berlin sun, ower cauld beer
'Happy golden wedding dear mum and dad
here's tay fiftay mair year,' wiz ma bad joke
fairgruns ur foarmd fay hunners a wee spokes
yer big wheel fair whurlt, its shada's stull grand.
Twelfth flair, cocktails: fowr; yin streetchd oot sunset
spent oan Berlin's shooders. Mind thon picture.
luck back at it and yer weans don't bicker
fowr o us laughin away, nae regrets
Brother, you pulled a face: 'don't be sa daft.'
they'd gone to bed when ah said: 'winter's near.'
unner a Berlin sun, ower cauld beer
'Soon it will just be us, you and me, left.'
Ah chose ma words weel. Cherish. Precious. Gold.
The sun dippt and drappt. It was late, dark, cauld.
Fessen in the Vernacular by Lesley Benzie
Lesley Benzie is Aberdonian but calls Glasgow home. An editor at Mxogyny Magazine recently said of her (see article at, https://www.mxogyny.com/sections/2023-8-14)
"There's something of a modern day Robert Burns to Lesley – many of her poems are fiercely political, rich in social commentary, and written in Scots".
Lesley qualifies this statement with "but I'm blessed with a quarter of the number of children and have indulged in much less philandering". Writing in both Doric Scots and English, she has 2 poetry collections, Sewn Up and Fessen/Reared reissued August 2023 (Seahorse Publications).
Previously she has been Runner-up in the McCash Scots Poetry Competition 2020. In 2021 she was shortlisted in the Main and Scots categories of the Wigtown Poetry Prize. She is a contributor to 3 collaborative collections, Wanderlust Women:Three Poets 2021 and Wanderlust Women: Extra Baggage 2023 (Seahorse Publications) and Norlan Lichts 2022 (Rymour Books) which was nominated for Book of the year in the Scots Language Awards, in which she is also nominated as the Writer of the Year.
She is the Scots translator for the graphic novel Black Oot Here: Dreams O Us by Francesca Sobande & layla-roxanne hill & Chris Manson. instagram.com/lesleybenzie/
Fessen in the Vernacular
At times, life can be
a North Sea wave, brakkin ower me
caul an hard, like a fist
ah'm nae quick enough tae sidestep.
Like lost loves, it taks ma breath awa
an ah'm soaked through,
unable tae cling
tae the perts o me
nae shaped
bi the hershness.
At ithers ah'm a driech island landscape
shot through wi the strength o slate grey,
dense volcanic rock.
The dark violet sky circlin owerheid.
Theday, ah took ye past
the Fittie Bar, ma da's favourite,
far ma faimily congregated tae bid him his last.
There is ane o them wide blue skies
turnin the sea a deep bluegreen
like his een.
Ye mock ma accent that shifts
back an forth
fae Glasgow, ma spiritual hame
an back tae Aiberdeen
like the wee waves lappin at oor taes.
Despite the charged sea life smell,
jist the same the salt smerts oor kisses.
An ah'm grateful for it aa
an that ancient ability
tae think
wi ma hairt.

The Hauntit Hoose by Ross Crawford
The Hauntit Hoose
'Thair's a hauntit hoose
doon by,
next tae the burn.'
A've heard it said
too mony times tae coont.
An yit, a mannie bides thair,
unfashed by ony spirits
as he turns the soil.
A hail him, 'Here, sir!
Huv ye goat ony ghosts
livin wae ye?
Breengin aboot
while ye dae yer dishes
or hing up yer washin?'
He shrugs his shooders,
smirk twinkillin.
'Huv a keek at a map,
wee man,
and then ye'll see fur yersel.'
Ma faither's auld OS
— pink cover, weel-worn –
unfaulds erratically.
But A find the spoat,
wae the hoose
next tae the burn.
'Taigh an Spioraid', it reads.
A luik again.
'Taigh an Spioraid'.
Still, it says the same.
Awrite, but that disnae mean onyhin!
Or sae A tell masel, but then,
A see it—
richt next tae the hoose,
runnin anent,
impossible tae miss:
'Bogle Burn'.
Och!
That seals it,
dintit no?
A've heard masel say it
too mony times tae coont:
'Thair's a hauntit hoose
doon by,
next tae the burn.'
Ross Crawford