Year of Coasts & Waters 2020: Educational Resources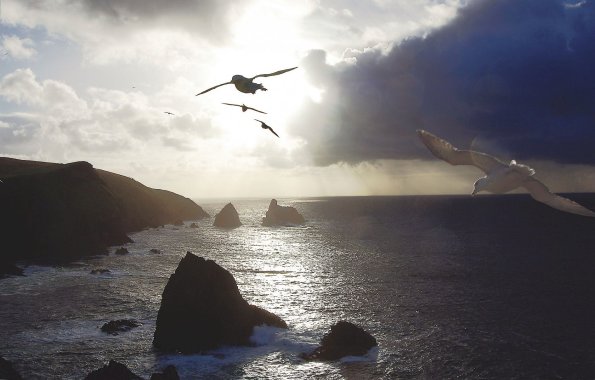 In 2020, Scotland celebrates its Coasts and Waters, which will shine a spotlight on these vital elements of our landscape. There are plenty of activities available with relevance to Scots and interdisciplinary learning that will help learners mark the celebration.
Poetry
Within 'The Kist', which is an anthology of Scots texts now available via the Scots Language Centre, there are a number of texts suitable for helping learners to explore Scotland's coasts and waters.
Hungry Waters by Hugh MacDiarmid is a poem which personifies the waters of the sea, exploring the theme of coastal erosion.
Brekken Beach, Nort Yell by Christine De Luca is written in the Shetland dialect. This poem describes the beach and shore, as well as the power of the sea.
Another poem written in the Shetland dialect is Shetlan by John Peterson. This poem describes the landscape, shoreline and waters as the seasons shift throughout the year.
Heron is a well-known poem by JK Annand. The poem features a lively description of the heron and follows the bird as he fishes for his tea.
Crocodile is another well-known (and often recited) poem by JK Annand. While the poem is not set in Scotland, it has proven to be very engaging with wee yins and encourages children to think about wildlife around water.
Song
There are countless Scots songs related to the theme of coats and waters – particularly, a great many that explore the subject of fishing. Whether learners wish to explore the lyrics and the stories behind the songs, or are just content to listen, the songs are an ideal way to engage learners in Scots language and Scottish culture in general.
From shore to shore - a resource from the National Library of Scotland
From shore to shore showcases images of Scotland's coasts.
The 'Living memory' resource includes a short film with Scots Radio's Frieda Morrison and former fishermen James George Addison. The interview is in North East Scots/Doric. The transcript is available in Doric and in English. Furthermore, the teaching resources encourage learners to engage with the photographs, and feature activities related to listening and talking; reading an image; and writing.
Visit Scotland has further information about the Year of Coasts and water. They provide a toolkit with all you need to know. To follow information on social media, use the hashtag: #YCW2020