Oor Wullie's Bucket Trail: Teaching Resources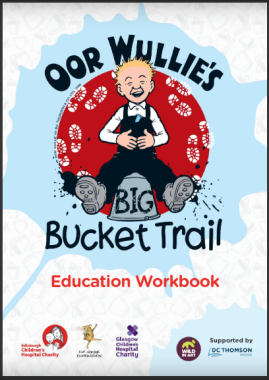 Primary schools can have access to Scots Language Teaching resources through an education pack developed to support the Oor Wullie BIG Bucket Trail.
You can find the Education pack (for teachers) here. It features lesson plans and activities that are linked with CfE experiences and outcomes.
You can find the Education workbook here. It features fun learning activities such as a comic maker, Scots language flash cards, a word search and a quiz.
Oor Wullie's BIG Bucket trail will run this year from 17th June 2019 – 30th August 2019. The trail will feature sculptures by artists as well as mini sculptures designed by children in schools across the country. Funds raised through the trail will support Glasgow Children's Hospital Charity, Edinburgh Children's Hospital Charity, and the ARCHIE Foundation.