Scots Translations of Books by Julia Donaldson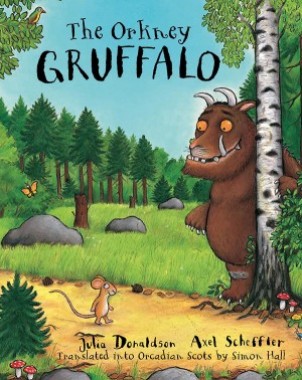 Several picture books by the massively popular Julia Donaldson are now available in Scots language versions.
The Gruffalo has been translated into five editions representing alternative dialects of Scots.
The Gruffalo in Scots (translated by James Robertson).
The Orkney Gruffalo (translated by Simon Hall).
The Dundee Gruffalo (translated by Matthew Fitt).
The Shetland Gruffalo (translated by Laureen Johnson).
The Doric Gruffalo (translated by Sheena Blackhall).
The Glasgow Gruffalo (translated by Elaine C Smith).
The Guffalo's Child is also available in Scots as The Gruffalo's Wean (translated by James Robertson).
The Reiver Rat is James Robertson's version of Donaldson's The Highway Rat.
Whit the Clockleddy Heard (What the ladybird Heard) and Room on The Broom in Scots are also James Robertson translations.
All versions can be purchased at Black and White Publishing.