The Cundeez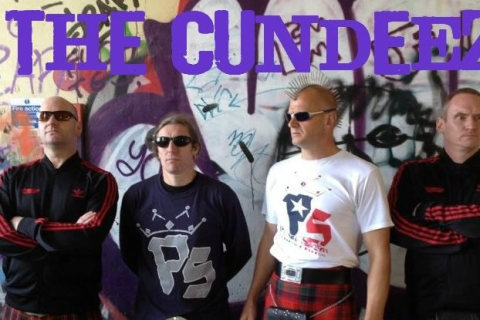 Dundonian band The Cundeez have a fast, thrashing, unique sound, straight out of the punk tradition, but with pipes and kilts for good measure. They make a lot of interesting social comments through their songs, based partly on their own experiences growing up in the council estates of Dundee and elsewhere.
The Cundeez lineup consists of lead singer, piper and song-writer Gary Robertson, Stevie Cundee on bass, Trotsky Cundee on guitars and Tez the Cockney Cundee on drums.
Another outstanding feature of the Cundeez is their use of the Dundonian dialect of Scots, interwoven in their songs, used to clever, humorous and skilful effect (where else could you get Murder on the Oary Express?) and integral to the bands Dundee-based identity. The name Cundeez is taken from the Scots word cundie meaning a drain - which comes originally from the French word conduit.
Another word closely associated with the Cundeez is oary, a version of orra(e), which in English translates variously as uncommon, unmatched, spare, or even odd, hence the Cundeez Oary Rock! (Viewers and listeners in the North East can tune into orra, as in orra loun). The Cundeez repertoire includes Skeem Life, Yir Talkin Shite (a comment on politics and the state of the world), Gangs o Dundee, Ehm aff it!, Oary Tull Eh Deh and Lend wiz yir lugz. The band also produced Coloured Ribbons and Tarnished Brass (in memory of Gary Robertsons two grandfathers who fought in WWII) from which all the proceeds went to Troops Relief.

Follow the links on the left to hear the band in interview with the Scots Language Centre, to hear their music, connect on social networking sites or to buy downloads of the band's CDs