The Song's The Thing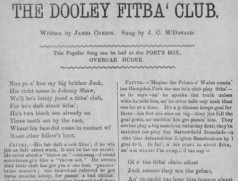 Queen's Park (Glasgow) became the first constituted football club in the year 1867. Professional football had arrived in Scotland. Queen's Park represented 'Scotland' in a game against an English team in 1869 but it was in 1873 when eight clubs got together and founded the Scottish Football Association that a national team began to emerge.
From 1887 Scottish-based teams could only compete within the SFA and players began to receive pay from 1893. A second division was added in 1893 and a third in 1923. Scotland joined FIFA in 1910 and the Scottish Women's Football Association was founded in 1971. In 1975 the SFA inaugurated the Scottish Premier League too. The repeal of the stamp act, in the 1850's, led to cheaper printing and publishing and so many football poems and songs in the Scots language did the rounds of towns and football grounds. Popular ballads were printed and sold by chapmen and street hawkers which celebrated well-known team and players. These created a following for teams and encouraged supporters in the stands.
Probably one of the best examples of these printed broadsheets is 'The Dooley Fitba' Club'. This is believed to be the earliest known song and prose of its kind about professional football in Scotland. It was printed between 1880 and 1900 and was written by James Currin. Currin was a native of Donegal, Ireland where the Scots language was (and still is) spoken. It was printed in Dundee but speaks about the game in Glasgow. The character says that his brother has joined a football club and makes fun of the state he gets himself into:
'Noo ye a' ken my big brither Jock,
His richt name is Johnny Shaw,
We'll he's lately jined a fitba' club,
For he's daft aboot fitba;
He's twa black een already on
Three teeth oot by the root,
Whaur his face did come in contact wi'
Some ither fellow's boot.'
These portions were sung at music halls and in between the singer narrated the story in Scots too. Such ballads reflected the taste and language of the Scottish audience and were very popular in their day. To see the full version, and other examples of ballads in Scots from this period, please follow this link to the National Library of Scotland : http://www.nls.uk/broadsides/broadside.cfm/id/15078
As well as the printed ballads and music hall sketches, individuals from various areas also wrote and published verses in Scots about their local football teams. One sing by a Dons fan, from the 1950's, proclaimed :
'I'm an Aiberdeen supporter
and I gang tae ilka game
follow them for miles an' miles
fan they're awa frae hame.'
When floodlights were introduced in the 1950's this allowed football games at night, a thing welcomed by working men. Another Aberdeen bard sung:
'And, noo Pittodrie's floodlit
Ye'll see them day and nicht
And in their nylon sarkies
They mak a bonny sicht.'
However, increasingly since the 1960's and 1970's, Scottish football fans have tended to import songs from England, perhaps slightly adapting the words, a reflection that each new generation has been losing the language – and the confidence in using it. If you know of any football songs that have been composed in Scots within the last twenty or thirty years please drop a line to the Scots language Centre.